The new era of Superman the comics begin with an addition to Clark Kent and Lois Lane's family. With Superman's Warworld saga over and the Man of Steel back on Earth, DC is reviving Superman with the new creative team of Joshua Williamson and Jamal Campbell. As for action comicsPhillip Kennedy Johnson remains on the title, which turns into an anthology book featuring several characters from the Superman family. Superman #1 Doesn't Debut Until February, But This Week action comics #1051 confirms that the Superman family is growing.
WARNING: This article contains spoilers for Action Comics #1051. Continue reading at your own risk.
The Story "Speeding Bullets" Part 1 in action comics #1051 is by Phillip Kennedy Johnson, Rafa Sandoval, Matt Herms and Dave Sharpe. After arresting terrorists in Metropolis, Clark Kent, Lois Lane, Jon Kent, Superboy (Conner Kent), Supergirl, New Super-Man (Kenan Kong), and Natasha Irons reunite at the Kent apartment. After they recap the past year and more storylines, Clark and Lois announce that young Phaelosian twins Otho-Ra and Osul-Ra are going to be living with them. In other words, Superman and Lois adopted two new children, giving Jon Kent siblings. While Jon put on a happy face at the company, he didn't seem too enthusiastic about the announcement.
Superman met Otho and Osul while helping to free refugees on Warworld. Together with the Phelosians, they were able to start a rebellion against Mongul. They are later dubbed the "Super-Twins" by a Daily Planet reporter. DC teased the importance of Otho since he is heir to an ancient god named Olgrun, which will no doubt come into play at a later date.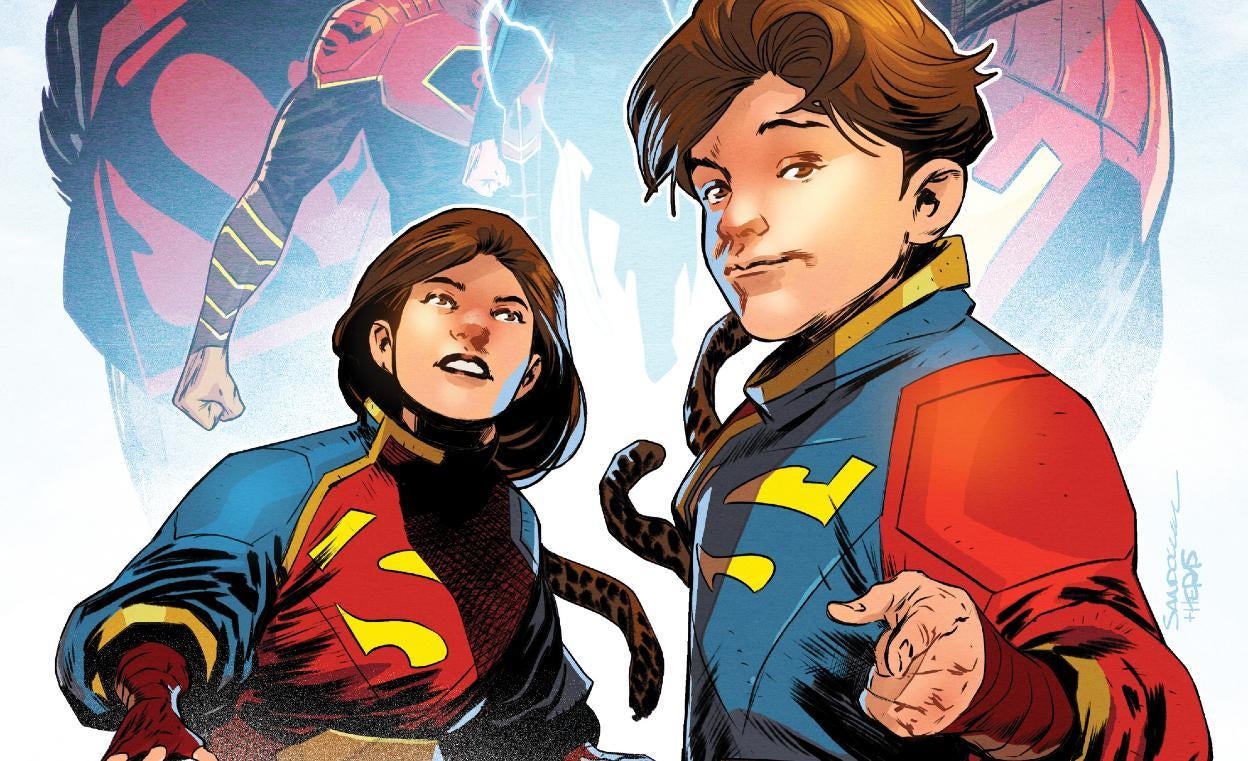 Action Comics' Creative Team Discusses the Return of Superman's Secret Identity
The action comics The creative team previously discussed the return of Superman's secret identity in an exclusive with ComicBook.com.
"The stories we will tell in action comics, Supermanand The Adventures of Superman: Jon Kent are a celebration of everything Superman is, from the Super Family to the Daily Planet to comics' most iconic love story, Lois and Clark," said action comics writer Phillip Kennedy Johnson. "Certain elements of the Lois and Clark dynamic can only be there with the secret identity. And even just deep in the gut, something about seeing Clark Kent again in a tie and glasses, ripping his shirt off to revealing the S-shield underneath, it's just amazing. It's an image that puts the music of John Williams right in your ear, and it makes you feel like you can fly. That's how we want every Superman story feels.
"Truth is a very important thing to Clark Kent," added the incoming Superman writer Joshua Williamson. "Someone stealing this from him is a tragic moment and created a lot of possibilities for drama and interesting stories for the Superman line in 2023. We wanted to play with all the pieces of the great and iconic Superman mythology that we love all. When this challenge was presented to us, we wanted to make sure it wasn't just about being magically put back in the box. There are dangerous repercussions to how this happens that leads to more of history to explore. And you will see the beginning of it in action comics #1050!"
Let us know your thoughts on Superman and Lois adopting Otho-Ra and Osul-Ra in the comments.