pierre yovanovitch gives life to a new scenography for 'rigoletto'
Pierre Yovanovitch produces a captivating decor for the production 'Rigoletto' by Giuseppe Verdi, from January 21 to June 21, 2023, at the Basel Theater in Switzerland. As a lifelong opera enthusiast, the French interior and furniture designer was thrilled to have acclaimed theater director Vincent Huguet invite him aboard this project, extending his signature strokes and aesthetic to the world of theater.
The production tells the story of Rigoletto, a lowly court jester who works at the court of Mantua, ruled by an arrogant duke who brags about his long list of lovers and humiliates his subordinates. While he usually cracks cynical jokes at the Duke's "victims", Rigoletto's world comes crashing down when Gilda, his daughter, catches the attention of her master. With a focus on a tragic storyline and the universal themes of revenge, naivety and power, Yovanovitch conceptualized a contemporary, mobile design scheme, creating a bold yet simple canvas for the psychologically complex storyline.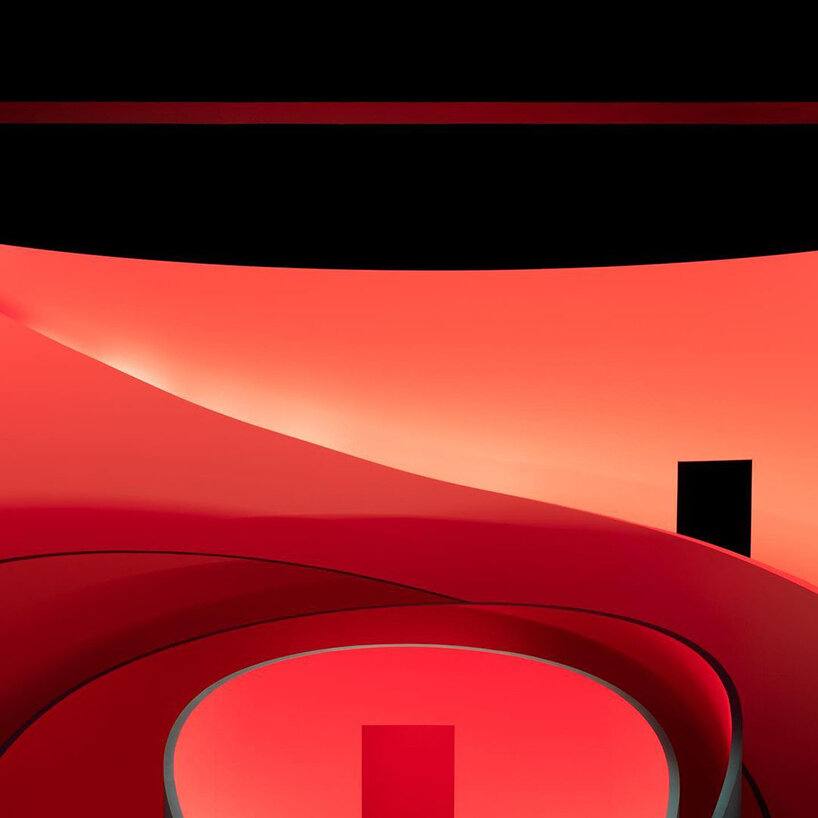 Pierre Yovanovitch designs a mobile design scheme | photo © Paolo Abate
Pierre Yovanovitch's dramatic scenography for Theater Basel comes to life as a central structure made up of three rotating walls, painted blue and red, evoking abstract flower petals. These walls move along a 360 degree circular track, rotating and changing position as the storyline evolves. Each position creates a whole new backdrop for the characters. Complementing the central feature is a sweeping white staircase that curves along the backdrop and a sculptural chandelier hovering atop the rotating walls, casting ambient light with its minimalist, concentric rings. Last but not least, the designate populated the vibrant modern opera stage with bespoke furniture. These include a daybed, a curved sofa and a cylindrical table with stools.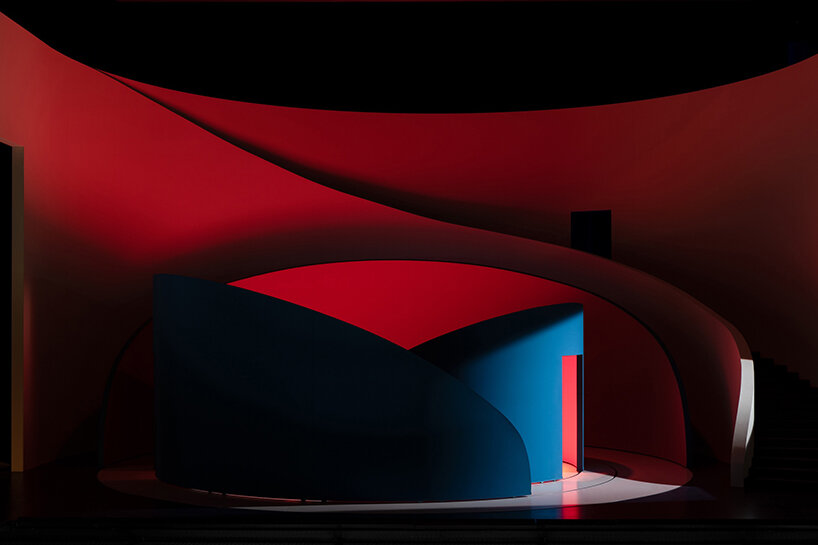 a bold composition of slender curves and dramatic tones | image © Paolo Abat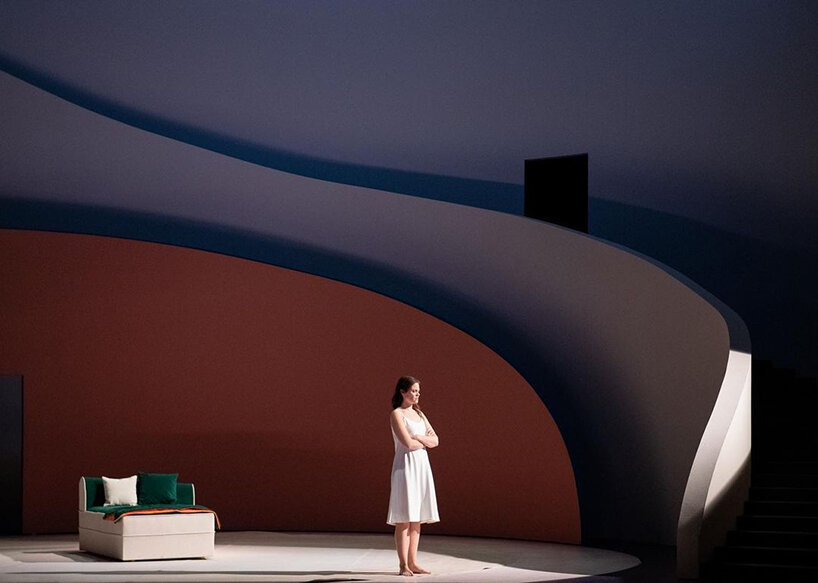 Pierre Yovanovitch designed custom furniture for the ensemble | photo © Paolo Abate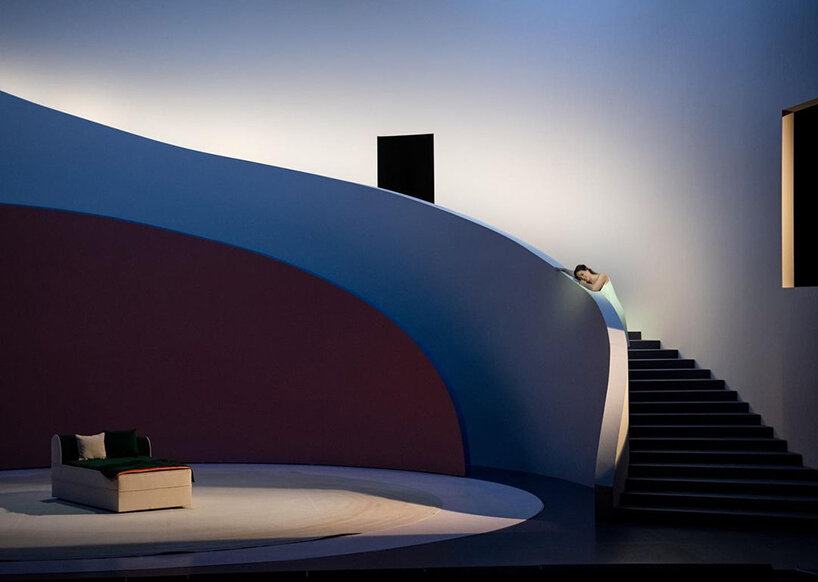 photo © Paolo Abate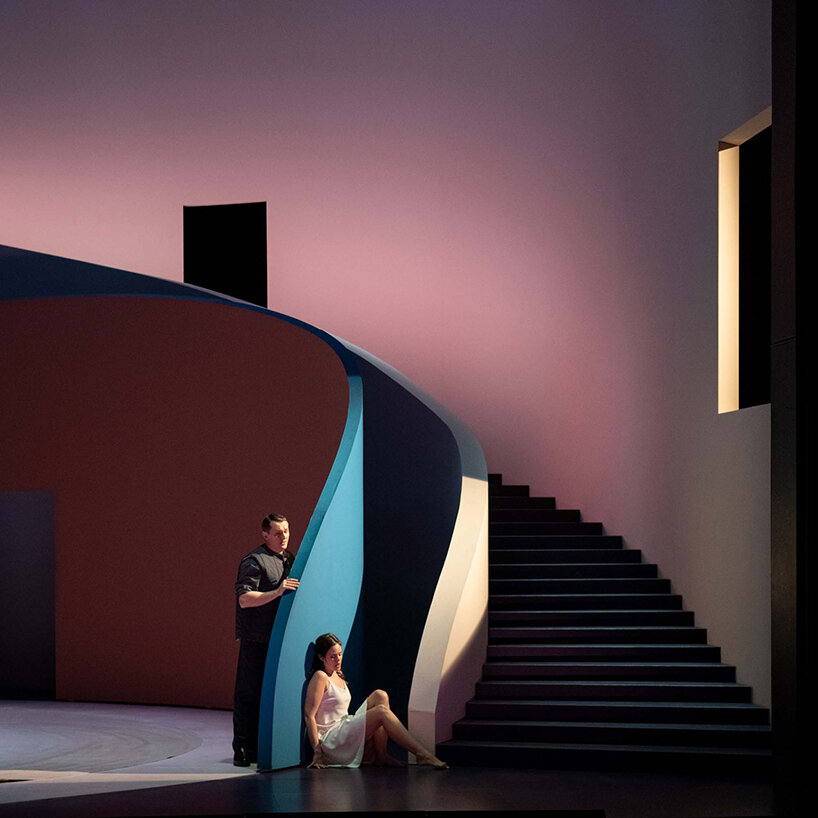 create a bold yet minimalist canvas for the psychological storyline | photo © Paolo Abate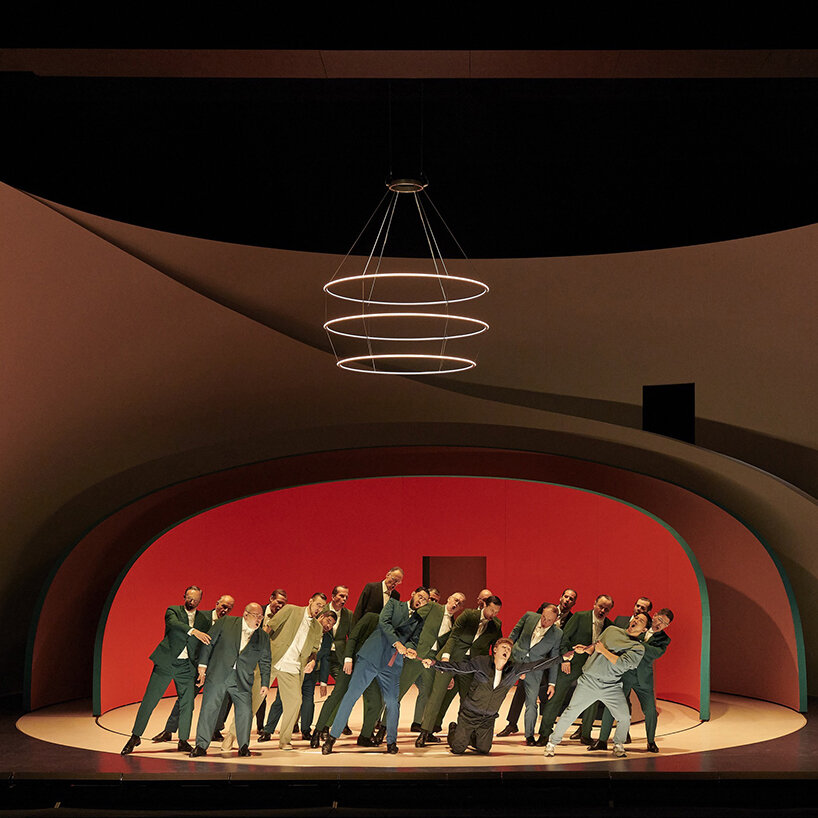 photo © Matthias Baus