Welcome to Same Same, But Different. As Gen Z and Millennial fashion editors, we know a thing or two about shopping, for all ages, and especially our demographics. As we find the best products for you, we can't help but do a little shopping for ourselves and create our personal (age-appropriate) wish lists. And now we share them with you. Ahead, find out what's been in our hearts and carts lately.
---
Valley: Well well, good. Looking forward to seeing you again on the interwebs (and at our offices)! I know January is almost over, but in the tried and true spirit of the new year, I ask you: what are you focusing on in 2023? Whether you have your eyes set on personal goals or specific products to help you achieve them, I'm all for it. So you tell me.
mega: More fresh air, more sun, more things that feed me and my body. After the hedonism of the holiday season, it makes sense that we collectively adopt better habits and better well-being with each new year. And look! We're past Letting Go Day (January 13, when most people have already let go of their resolutions). Exercise and self-care have been a core part of my routine for years. Still, there are things I could definitely improve on. Example: my posture. It's the slumped city here. You and I have always had the idea of ​​having standing desks, and I think it's time we finally did it. What do you say?
Valley: Standing desks? Oh, I'm ready for it, whether it's resting on our desks or a chic Flexispot WFH Option. To be honest, I bought one from my dad a while ago, and it's obsessed. Now I watch one for myself. In addition to living a more ergonomic life, I tried my best to live more intentionally. Before I get all woo-woo here, that means developing more of a routine. To start my days, I go to the gym or I opt for a session at home with Pilates class (new year, new Dale). It also means getting out more and staying hydrated by drinking coconut water, because that's my nectar. I'll be the first to admit that when it's under 40 degrees, I'm the last to do all of this. Other than that, I try to make my home clothes less… schlubby. My favorite way to do it is with a cute knit set for lounging, or a cozy matching tracksuit.
Anyway, I know we've discussed the delights of deadlifts in our corner of the office, but what else are you doing to add wellness to your life?
mega: Coconut water! Simply the best. Hydration is therefore crucial. I take my 73 oz HydroJug everywhere I go… so much so that it's borderline embarrassing. Anyway, I too cower in cold weather and struggle to accomplish much. But I find that staying organized helps me a lot. My proven weekly schedule is an absolute bargain (and I'm very picky about planners). Besides checking my calendar every morning, I fight the mid-winter blues with – drum roll, please – hot yoga. There's something healing about intentional sweating, as opposed to sweating on my walk to work. I am a big believer in a room for yoga– because who wants to deal with a baggy t-shirt in the face during a downward dog? – and carpet towels.
Valley: Oh I feel you on the planner – I currently have two with this lovely notebook, plus a weekly notebook (they all have different purposes, I swear!). I love stationery to the point where it's maybe a bit of an obsession, but I also love embracing new technology. See: A new smartwatch to track my workouts and daily habits instead of… guessing. Plus, a solid pair of headphones that really don't fall out of my ears; they're perfect for when I'm on the move (and when I'm not). For low-key days, I'll use this gadget from Therabody to (gently) get my face back in shape with a good massage – with that, I'll be officially ready for some real TLC.
Meg: I don't know why, but I just don't feel like jumping on the smartwatch bandwagon. Minimize my screen time, maybe? You'll have to let me know how you like it. My other wellness heroes of late have been probiotics because I'm suddenly very concerned about my gut biome (why?) and SLEEP. My Buffy comforter makes it impossible to get out of bed. Good sleep gives, and good sleep takes away. This year, I also want to reduce my alcohol consumption. I thank the herb gods for my favorite CBD Pre-rolls to replace those cocktails after work. However, I chose not to participate in Dry January, because sometimes you have to live a little. Holistic wellness is about finding balance, don't you agree?
Valley: I would say yes! No one is perfect, and finding the right balance for you is a task in itself. Speaking of which, I've made it my goal to get my apartment back in pristine condition so I'm not always overwhelmed by its chaotic state at the end of each month (and therefore overwhelmed by the dramatic deep cleaning). I really like my Blueland products, for all they are (and to keep everything simple), so there's no doubt that I'll need a restock of refills soon. Other than that, I'm outfitting my very humble abode with some lovely interior design, but I guess that's a conversation for another column.
Mega: Decor! Be my heart wall gallery again. Till next time!
---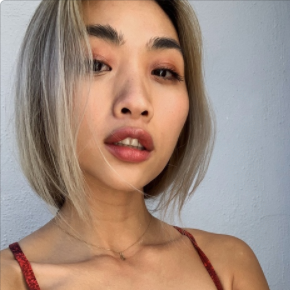 Dale Arden Chong is the fashion business editor at ELLE.com. Previously, she was an editor at MensHealth.com and wrote for Who What Wear, GLAMOR, The Coveteur, and more. She loves fashion, food, and art, among other things, but her biggest love is K-pop idol BTS V.
Associate Fashion Business Editor
Meg Donohue is Associate Fashion Business Editor at ELLE.com. His passions include spicy foods, sustainability and the Y2K remake of Charlie's Angels. She will never stop hoping for a One Direction reunion tour.